Mobile Patrol Vehicle West Midlands
What Are Mobile Patrol Vehicles?
Our mobile patrol vehicle West Midlands are visits to your site or business at random times for a pre-agreed number of visits in the West Midlands area.  They are to act as a visual deterrent for intruders, thieves, vandals, and other unwanted visitors.
A uniformed highly trained and licensed Empire Security officer will arrive in a highly visible marked patrol vehicle to patrol your site and conduct an internal or external patrol of your site to make sure everything is ok and as it should be.  This includes checking for other security problems such as any windows and doors left open, gates and fencing left unlocked or forced, CCTV set ups, and more.
The number of security guards and the frequency of patrols are determined by the size of the site and your own specific requirements which is why we carry out a detailed briefing with you before any patrols are assigned.
All our mobile patrol vehicle West Midlands that are driven by our patrol units are clearly marked with the distinctive Empire Security logo and branding.  This alone is an effective visual deterrent when protecting your property and business against any unwanted visitors in addition to site signage installed around the site.
Our mobile patrol vehicle West Midlands patrols and protects premises across all sectors including retail, construction, commercial and corporate and can be deployed 24/7 to maintain the security of your site, the safety of your staff whilst reducing the risk of crime or damage.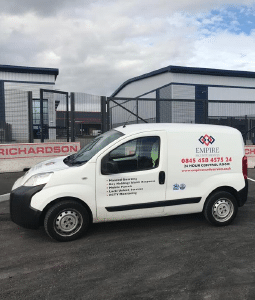 Our Fully Trained SIA Officers
Our security staff are fully insured, highly skilled and experienced SIA licensed officers which means they are prepared to deal to a wide range of security situations, so if any suspicious or criminal activity does occur you can guarantee a rapid and effective response.  Our control centre is operational 24/7 should an emergency arise, and an alarm needs to be raised.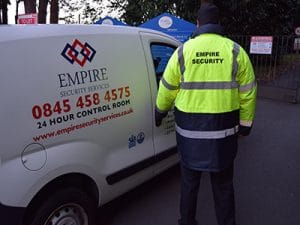 Empire Security Services offer a range of security services to protect your business and property but choosing a mobile patrol vehicle West Midlands also gives the option of a more cost-effective alternative to having static or manned guarding on-site as they do not incur the cost of having someone on-site continually but still providing effective security.
Why Choose A Mobile Patrol Vehicle West Midlands?
Visible security presence
Regular security checks outside of office hours
More ground can be covered in less time
Patrols can be verified via key point readers, providing you with a report detailing what actions have taken place.
Through regular patrols, inconsistencies or changes are easily identified and addressed.
Immediate response to emergency situations due to the accessibility of a vehicle.
Other Security Services We Offer
In addition to a mobile patrol vehicle West Midlands, Empire Security Services offers a range of other comprehensive security services, these include: