Security

|

Peace of mind for you and your business
SIA Approved Contractor Security Firm
Thanks to our unwavering professionalism and outstanding reputation, we are well-known for providing unparalleled security services. Based in the West Midlands, Empire Security Services Ltd is more than happy to travel anywhere within the UK. As a company we work tirelessly to ensure that you and your property are kept safe.
With our wide range of security services you'll receive quality service at an unbeatable price
We will surpass any quotes supplied to you by other security companies
We're operational 24 hours a day, 7 days a week. So our dedicated security team are always on hand to support and assist
Highly Professional Mobile Patrol Supervisors will respond immediately and efficiently in liveried vehicles to any situation or emergencies that may arise
Our security specialist team are always liaising with the emergency services reducing the highest level of crime prevention measures
All of our security personnel have been through and passed background checks.
Our guards are highly visible are a great deterrent.
We provide K9 security protection to enhance safety.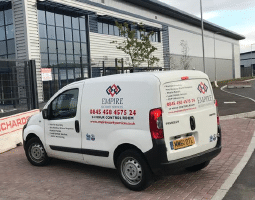 Mobile patrols to increase presence and visibility.
We can keep our watchful eye on your property when you cant, giving you piece of mind and increasing security presence.
Empire Security Services Ltd is offering a cost effective full suite of professional security services. Our highly qualified, security specialist team are on hand to offer all of the following security services in West Midlands and throughout the UK. Whether you're looking for a long-term security solution or short-term staff cover, we are your first port of call. We work very closely with both new and existing customers, making sure that their requirements are always met every step of the way. We are available 24 hours a day, 7 days a week. So our dedicated and friendly control room-based staff are available to support you at any time.
We want to make the process easy for you, which is why we offer a comprehensive range of security services. The professional services we are offering include:
Manned Guarding
Dog Handlers
Door Supervisors
Store Detectives
Static Guarding
Retail Guarding
Construction Project Security
Car Park Security
Event/Venue Security
Industrial Estate Security
Warehouse Security
Wedding Security Services
Government Building Security
Care Homes Security
Hospital Security
Key Holding/Alarm Response
Lock/Unlock Services
Mobile Patrols
School/College Security
Business Park Security
Concierge Security
Corporate Security
Gatehouse/Reception Management
Stewards
Residential Security
Train Station Security
Shopping Centre Security