Looking for 'construction site security in Birmingham'? Construction sites are magnets for criminal activity: The monetary value of equipment and materials on these sites means they're unfortunately a target for such exploits. Vandalism and theft cost the industry an unfathomable £800 million a year, but there are also threats to human Life and operations that come with this.
Therefore, it is important to invest in appropriate Construction Site Security to make sure that the threats are not just deterred, but that the possibilities are detected imminently and delayed before they happen.
How Empire Security Services Can Provide You With Construction Site Security
For more than 45 years, Empire Security Services has provided a variety of crime security services to organizations all throughout the UK. With headquarters in the West Midlands, we can provide construction site security in Birmingham and other locations throughout the UK.
Empire are leaders in security services offering 24-hour security by trained and accredited professionals. All of our staff are SIA licensed. By providing visible presence, it acts as a deterrence to offenders, providing you with peace of mind that your construction site will be monitored and safe from vandalism and theft.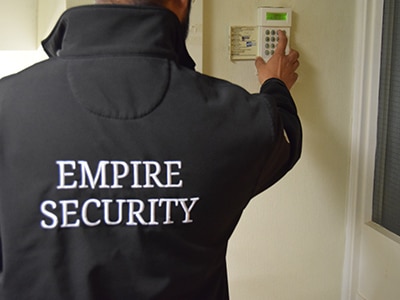 What Security Measures Do Empire Security Services Provide?
Empire Security Services provide a wide range of security services with a mission to provide a low-cost security solution that keeps your construction site in Birmingham & surrounding areas safe and secure. With Empire's Security Services, you will also provide your employees with a sense of security: They will be in the hands of fully trained and educated security specialists who will ensure any unknown persons are unable to get on-site, heightened by the visible security presence our professionals offer.
Crime Prevention Security Services Empire Offer
Our uniformed Security Guards will frequently patrol the Construction Site in Birmingham and report on any sightings, incidents, or suspicious behaviour to site management and to our 24-hour control room to ensure the best safety and support for you.
Our highly qualified and trained K9 Security Dogs make the presence of intruders and criminals aware to their handlers and add that extra efficiency than static security officers. These are available 24/7, all year round and therefore provide an invaluable service across the country.
This is an effective method for protecting your Construction Site at unoccupied hours and offer immediate response due to the accessibility of a vehicle.
Key Holding is a service we provide where spare keys to a property are kept safe on behalf of a business. With our 24 hour, 365 days a year key holding service, we respond immediately to any alarms and provide professionally trained security personnel to scope out the scene.
Empire Security Services are a leading provider of CCTV monitoring in the UK and keep a watch over your Construction Site at unoccupied times and can alert police for immediate response.
We offer this service to take the responsibility off you or an employee, where we arrive to your Construction Site first thing in the moment and last thing at night. This can be the most lucrative times in the day for criminals, so Empire Security Services takes care of every aspect of your construction site down shut down and open up, taking the obligation from someone else.
Fast and Flexible 24/7 Response
Health and safety Improved
If you feel you could benefit from any of the security services Empire provide, or want a confidential chat about how we can aid your Construction Site Security in Birmingham, get in touch today for more information.
Call us on 0845 458 4575